A Summer Saturday Evening At Litchfield's West Street Grill

By Bob DeZinno, Publisher Sunday August 2, 2009

While restaurantsCT.com's Executive Editor Frank Cohen is busy painting the Capitol City red for "Hartford's Restaurant Week," Paula and I decided to head to the hills… the Litchfield Hills. Truly, when thinking of Litchfield, one can't help but to think of the West Street Grill. So, for this sojourn into the Northwest Corner, the West Street Grill it is.

As has been the drill for some twenty years, James A. O'Shea and Charles Kafferman were both there to offer a sincere, appreciative welcome to all guests, and assure perfect service. Outstanding customer service is the norm here, and the snappy young staff seems to require no prodding from James to do the job as required, yet I am certain that they feel his watchful eye at every turn.

The discussions leading to our decision to dine at the West Street Grill included words and phrases like "farm fresh," "creative," "perfectly prepared," and "light." This is the place to enjoy a crisp locally grown salad, a healthy piece of perfectly prepared fresh fish, share a homemade sorbet, avoid the so-called unhealthy carbs, and leave feeling sated but not stuffed. James had other plans for us, however, transforming our plans into his for a "tasting" menu of so many of the treats available on our visit.

We admit that we had not been to the West Street Grill for far too long. My job requires that I visit many restaurants… and there are SO many. Paula's job with UPS allows us to only ever dine together on Saturday night. So this was something of a reunion for us, visiting a favorite restaurant, and visiting with James and Charles.

Q: Bob, where are the photos, like in Frank's journal entries? A: Sorry, I am not the shutterbug that he is. I didn't take any. But I can recall the look of rich colors, and balance, and shapes of the food presented. And each displayed in a unique manner in mini champagne glasses, square plates, round plates, rectangular plates, and towers. As a course ends, we actually find ourselves anticipating the presentation of the next as much as the taste.

Choices, decisions, each as interesting as the next, constructed by Executive Chef James Cosgriff of locally grown produce, day boat gathered seafood, and small farm raised meats. James recommended the Soup de Poisson; he declared it to be "outstanding." A demitasse of it arrived for each of us, and we agree. Charles came by to tell us that when this soup is on the menu his meal will include a bowlful, which he will sip with two hands, Japanese style.

Paula is an avid gardener of perennials, flowers and a small vegetable crop. (Certified as a Master Gardener by the UCONN Agricultural Extension Service!) Her appreciation of all the good things from the earth made her choice of the "Locally Grown March Farm Tomato Salad" a given. Rich, red, perfectly ripe 3/4-inch thick slices of this cherished summer fruit, served topped with chopped tomatoes, fresh basil, balsamic reduction and Fleur de Sel… served just right at room temperature, kitchen room temperature, that is. I opted for perfectly chilled and shucked "Bluepoint Oysters on the Half Shell." In recent years, I noted that many restaurants reclaimed the forgotten tradition of adding a tart mignonette to the routine offering of "cocktail sauce." The West Street Grill's "fresh lemon and watermelon mignonette" was all that was needed. While we waited for our ordered starters, a taste of the "Shrimp and Baby Squid Ceviche" from the full menu appeared. Crisp vegetables, tender seafood, chilled piquant broth… heavenly.

Paula's entree was the "Pan Roasted Wild Striped Bass" from the menu. I chose the menu addition of the "14 oz. Bone-in Fruit Wood Smoked Pork Chop." My decision was iced when I read the words "chipotle barbecue glaze" in the item's description. While getting ready to go out, I had the Food Network on the tube, and they were airing "My Favorite Meal, Barbecue." Celebrity TV Chefs were taking us to their preferred venues to get rich barbecue, and I guess I was inspired. I explained to our server that I understand (and teach) food safety, and I know that many today like their chop cooked to medium rare or less. I am still of the "Pork, The Other WHITE Meat" ilk, and mine should be cooked to at least medium. She explained that this cut is brined "Irish-style," and although cooked completely to my order, it will still appear a bit pink. I understand that, and appreciated her caution and knowledge, and loved the dish. Paula's plate was completely empty before I asked her how she enjoyed it. Obviously, she did. In fact, after she had finished, she declared it to be one of the best restaurant dishes she recalls.

On to dessert. We like to share a dessert, and enjoy a brief rest before it comes. Our order of the "Fresh Apple Crisp" was the right choice, as it goes into the oven as ordered. So, while we are waiting, who ordered the full plate of 6 homemade ice creams and sorbets that arrived? James did, we are told. Vanilla, blueberry, passion fruit, coconut, espresso, and raspberry. And did he also arrange the "Chocolate Bread Pudding" that followed? Yes, he did. And the Muscat? You guessed it.

From the greeting to the good-bye… and all that glorious food, hospitality and precise table service in between… our evening at the West Street Grill was absolutely perfect. The room was abuzz with the packed-house conversations of the many equally pleased patrons, James' and Charles' table visits, and the stealth movements of the staff as they navigate the room.

Thank you, James, Charles, Chef Cosgriff and the staff of the West Street Grill, both front-of-the-house and heart-of-the-house, for a memorable summer evening in the country. As we walked to our car, Paula suggested, "We need to come here more often. Much, much more often." We surely will.

It's Delirious
West Street Grill Never Fails

Cole Porter's famous lyrics—It's delightful, it's delicious, it's delectable—might well have been written to describe the West Street Grill. Now in its 18th year, The Grill (as locals refer to it) has become the standard by which all other ambitious, local chefs and restaurateurs measure themselves and has moved into the status of a timeless classic, like Porter's song.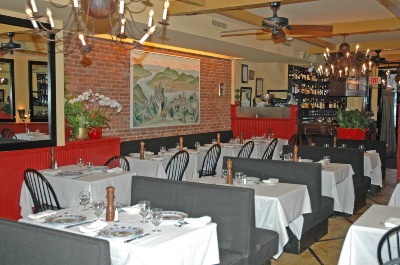 And, like the song, dining at The Grill evokes each season and in an undeniable way. For example, in the early summer months the restaurant is the first to serve locally grown heirloom tomatoes (grown especially for them and even tented during cold evenings), and we can think of nothing better. Served on a plate sprinkled with fleur de sel, drizzled with the best virgin olive oil, topped with a twig of newly grown basil leaves, and accompanied by a thick slice of homemade peasant bread, what could be simpler or more exquisite?

Hands-on co-owners James O'Shea and Charles Kafferman love what they do and it shows. From fine service to glimmering tabletop accessories, combined with the strong, simple look of a bistro, this restaurant has soul. Part of the reason for its current success is chef James Cosgriff, O'Shea's skillful and talented protégé of five years. Now just 23, Cosgriff has learned well at O'Shea's stove, and their culinary marriage has kept the fire in The Grill's cuisine. Several dishes reflect O'Shea's Irish background, but his love of Asian and international food is also apparent in the eclectic menu produced by this versatile duo. Cosgriff is totally at home whether skillfully sautéing a filet of salmon, creating a luscious garlic, basil, and parmesan–infused pasta sauce, or gently deep-frying their shrimp tempura specialty.

Clubby and casual, this is the place to be on a Friday night, year-round, where locals and very private celebrities gather in the booths and on the banquettes of this warmly lit space.

—Maxime DeWitt LITCHFIELD MAGAZINE Summer 2008

*** *** *** *** *** *** *** *** *** *** *** ***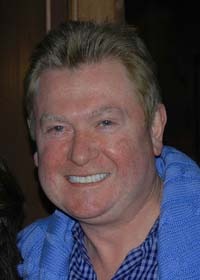 Style-setter still on top of its game

By John McKenna Republican-American

THE SCENE

It has been nearly 20 years since James O'Shea came to Litchfield and changed the face of dining in the state with his West Street Grill, the upscale yet casually relaxed restaurant where the food continues to excel under the direction of O'Shea and his business partner, Charlie Kafferman.

West Street introduced modern American cooking at a time when Connecticut restaurant cuisine was rather bland. Once West Street became established and gained media attention from the likes of Connecticut Magazine, the New York Times and Conde Nast Traveler, its style began to spread across the state.

West Street provides a comfortable dining experience with its low-key atmosphere, hardwoods floor, brick walls, and black tables and booths. Lining the walls are some of the captivating photographs from the collection of the late Raymond Jacobs of Bantam, an award-winning photographer.

Staff, many of them longtime employees, is friendly and hard-working. O'Shea and Kafferman are usually always visible, making it a point to greet patrons upon arrival and thank them as they leave. Along with its superb food, West Street is known as a celebrity destination that has drawn the likes of Meryl Streep, Mick Jagger, George Clooney and Bill Murray. The celebrities don't come to West Street to be seen; it's the quality of the food that lures them.

THE FOOD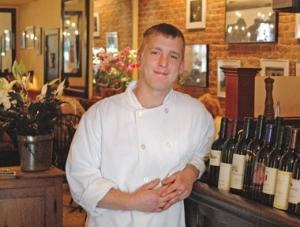 Chef James Cosgriff, 25, a Wolcott native, is the latest in a long line of West Street chefs who have combined their talents with the cooking instincts O'Shea developed growing up by the sea in Ireland. The result is a menu full of flavorful dishes that are sizeable and, for the most part, reasonably priced given their quality.



INSIDER TIPS

Dinner reservations are required on Friday and Saturday.

American Express, Master Card and Visa accepted.

Space is available for private parties of up to 35 people.

There are two outside tables providing views of West Street and the green.

WHEN TO GO

Lunch hours are 11:30 a.m. to 2:30 p.m. Monday through Friday and 11:30 a.m. to 3:30 p.m. on Saturday and Sunday. Dinner hours are 5:30 to 9 p.m. Monday through Thursday and on Sunday, and 5:30 to 10 p.m. Friday and Saturday.

HOW TO GET THERE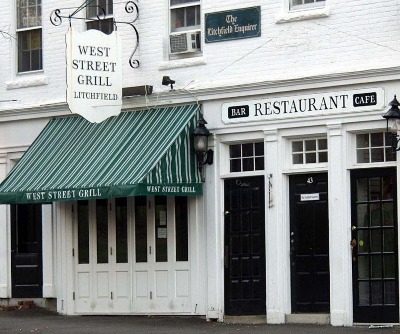 West Street Grill is located in the center of town, across West Street from the green. Parking is available on the street and in the municipal parking lot behind the row of buildings on West Street. Parking in both locations is free although parking on the street is limited to one hour or two hours.

*** *** *** *** *** *** *** *** *** *** *** ***

Some of the best and most exciting meals we've ever had have occurred at this highly rated creation of the 1990s. The long, narrow dining room is sleek in black and white, with a row of low booths up the middle, tables and mirrors on either side, and a back room with trompe-l'oeil curtains on the walls. Lavish floral arrangements add splashes of color, and more color is added by the celebrity New Yorkers who make this their second home. We thought our lunch – comprised of a rich butternut-squash and pumpkin bisque, the signature grilled peasant bread with parmesan aioli, an appetizer of grilled country bread with a brandade of white beans and marinated artichokes, a special of grilled smoked-pork tenderloin with spicy Christmas limas, an intense key lime tart and an ethereal crème brûlée – could not be surpassed.

But Irish owner James O'Shea and his chef James Cosgriff out did themselves at dinner, when we got to taste most of the menu. Beet green soup, corn cakes with crème fraîche and chives, roasted beet and goat cheese napoleons with a composed salad, and nori-wrapped salmon with marinated daikon, cucumbers and seaweed salad were masterful beginnings. A passion-fruit sorbet cleared the palate for the entrées: tasting portions of pan-seared salmon with roasted fennel and kohlrabi, spicy shrimp cake with ragout of black beans and corn, grilled ginger chicken with polenta and ginger chips, and grilled leg of lamb with marinated eggplant, potato galette and a tomato-olive compote. Next came a parade of desserts: a plum tart in a pastry so tender as not to be believed, a frozen passion-fruit soufflé, a hazelnut torte with caramel ice cream and a sampling of sorbets (raspberry, white peach and blackberry). It was suggested that we return in three weeks to sample the new menu, but we begged off, thinking we never could eat that well (or that much) again. Now after a few years? Well, maybe. In the meantime you can reach them at [860-567-3885] and by email at [weststreetgrill@aol.com].

Review by NANCY AND RICHARD WOODWORTH
Best Restaurants of New England
Web Published: 5/25/2005

(WTNH) _ Chef James O'Shea from the West Street Grill in Litchfield joined News Channel 8 @ Noon with a recipe for a delicious summer salad.

Posted July 10, 2008

Grilled Shrimp Salad with March Farm Tomatoes, Basil and a Citrus Vinaigrette

Ingredients:
½ cup of extra virgin olive oil
Grated rind of 1 lemon
1 dry chili pepper chopped or 1 tsp crushed red pepper flakes
3 cloves of garlic peeled and sliced
½ cup of basil leaves chiffonade or any fresh herbs from the market or better yet your own garden
1 pound of large wild shrimp (12-15) peeled and deveined

Method:
In a small bowl, whisk together the oil, lemon rind, chili pepper, garlic and basil. Place the shrimp in a large bowl and pour the marinade over and toss all together. Cover the bowl with cling film and marinade for several hours or overnight. Place a grill pan over medium high heat. Remove the shrimp from the marinade and cook for 2 minutes on one side turn over and cook for an additional 1 and half minutes more.

Tomato Salad:
(tomatoes from March Farms) www.marchfarms.com

4 large match tomatoes
Fleur de sel and freshly ground Tellicherry pepper

Cone the tomatoes and lightly trim off the tops and bottoms. Cut the tomatoes using a serrated knife into three thick slices (less than ½ inch each) Place the 3 slices of tomatoes (per plate) in the center of a large plate and season with the fleur de sel and freshly ground pepper. Repeat with the remaining tomatoes. Set aside while you grill the shrimp. This gives the tomatoes a little time to marinade and release their flavor. Place 3-4 grilled shrimp overlapping on the tomatoes.

Blood Orange White Balsamic Vinaigrette:

2 tablespoons of blood orange oil
2 tablespoons of extra virgin olive oil
2 tablespoons of white balsamic vinaigrette
A few drops of chili pepper sauce, fleur de sel and freshly ground Tellicherry pepper to taste.
Whisk all together and spoon over the shrimp. Garnish with additional basil and a sprinkle of fleur de sel.

*** *** *** *** *** *** *** *** *** *** ***

West Street Grill Has a Bistro Side !

By: Douglas P. Clement - The Litchfield County Times
01/29/2009


James O'Shea and Charles Kafferman are having a pre-spring fling of the culinary variety. They've turned the lights down low and the charm up high, and with Edith Piaf crooning in the background on a recent Sunday evening, there's no question seduction is in the air.

The setting, of course, is the venerable West Street Grill, now in its 19th year overlooking the historic green in Litchfield. Twice a week, on Thursday and Sunday evenings, its owners are swapping their traditional New American menu for French bistro fare-with a touch of trattoria élan tossed in-served with flair and at very appealing prices.
Perhaps this is their way of looking at the failing economy through rose colored glasses, but the attraction appears to be mutual, if you judge by the customers who are returning to West Street, night after night.
The grill is not the only restaurant in the area to offer its customers incentives these days, of course. Just look around at all the weekday prix fixe menus. But the allure at West Street goes far beyond the reduced prices.
What a seasonal thrill it is to park the car and stroll down a winter-wonderland West Street, drinking in the chilly air and admiring a snow-kissed landscape, before entering a warm haven of stylish sophistication and food that remains among the best in the region and Connecticut at large.
Looking around, once you're ensconced at a well-appointed table in the restaurant that put the region on the culinary map, it's easy to feel transported-either to Paris in the case of the bistro nights, or just to a sparkling, out-of-the-ordinary locale on any other evening.
The lights are low, the cocktails are tempting, the wine list is long, deep and distinguished, the service is impeccable, the owners are irrepressible and obsessive about excellence, the atmosphere is clubby and certainly bistro-ish and the walls are adorned both with mirrors for guest-gazing and artwork. At the moment, a suite of internationally-themed photos exude a rich diversity through colors that complement the subtle fireworks in the food.
Appetizers on bistro nights include the Soup de Poisson, a rich red base of tomato and red pepper blended with tender shrimp, cod and more, and accented by roasted fennel, crusty peasant crostini and a classic rouille, which derives its heat from a dash of chili pepper.
This rich, beautiful soup is just $9, and with entrees priced very kindly between $16 and $21, the urge to splurge a bit on wine might be indulged. In fact, the soup pairs wonderfully with a stellar 2005 white Burgundy, the Louis Latour Chassagne Montrachet.
The next starter on an impromptu tasting menu prepared expertly by chef James Cosgriff heats things up even more with a delicate fried Bluepoint oyster, freshly shucked and lightly breaded in panko. It is a morsel made only more delicious by the sauces punctuating the plate-celeriac remoulade, parsley pesto and balsamic reduction. ($10)
Also from the sea, and riffing on the peasant food theme that makes bistros so seductive, is another starter, the Beignets de Brandade de Morue, the classic puff of subtly salty passion that marries salt cod with potatoes in a light delight.
A refreshing pause comes in the form of a roasted red and golden beet salad, served before the arrival of the main course, grilled flat iron steak with caramelized shallots, a green peppercorn demiglace and pommes frites with a gorgeously lush aioli for dipping. The staff can recommend any number of good to great red wines to pair with the entrees, and indulging might mean choosing a 2003 Chateau Lafon-Rochet, a Saint Estephe with an outrageous "nose" that is drinking beautifully.
The steak frites entrée checks in at a very affordable $21, and another guest could be heard raving about the moules frites, or steamed Prince Edward Island mussels with garlic, shallots, white wine, tomato and fresh basil, served with pomme frites and aioli. That bistro night entrée is a mere $16.
Pan seared Idaho brook trout checks in at $19, and as the lovely evening drew to a close, Mr. O'Shea could be seen enjoying fresh spaghetti with Italian meatballs-with roasted garlic, fresh parsley, grana padano and a rich Pomodoro sauce. That entree is also $19.
The seduction of the new, affordable bistro nights is completed with the arrival of a chocolate ganache tart, a key lime tart and a trio of house-made sorbets. Either of the tarts, depending on your taste, serves as a decadent denouement, and the coconut sorbet, in particular, was an exotic touch.
Mr. O'Shea and Mr. Kafferman have never made a secret of the fact that riding out January and February amid cold, snowy winters in Litchfield can be challenging. On the cusp of their second decade at the West Street Grill, the bistro night response is perfect-and venturing out on otherwise forbidding nights for a great meal in a great setting is richly rewarding.
For more information or reservations, call the West Street Grill at 860-567-3885.

©Litchfield County Times 2009